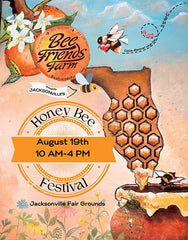 Hello Bee Friends,
Bee Friends Farm is thrilled to announce the return of the highly anticipated Honey Bee Festival, and we have some fantastic opportunities for you to get involved.
Event Details:
Date: August 19, 2023
Time: 10:00 AM - 4:00 PM
Location: Jacksonville Fairgrounds
Are you passionate about honey bees and want to be a part of this amazing event? Read on to discover how you can join the buzz!
Vendor Opportunities:
If you're a vendor looking to showcase your goods at one of Jacksonville's biggest events of the year, this is your chance! The Honey Bee Festival attracts a diverse audience of honey bee enthusiasts, families, and local community members. With many vendors already confirmed, this event presents a fantastic opportunity for you to connect with potential customers, expand your brand presence, and boost your sales.
But don't wait too long! Spaces are limited, and signing up early ensures that you secure a prime spot at the festival. To secure your spot as a vendor, simply visit our website https://forms.gle/gAUxTYcfAeZ53qSc8 and complete the registration form. After reviewing the applications, selected vendors will receive an acceptance email within 1-2 days.
We apologize, but we are not accepting honey vendors for this festival. However, we welcome vendors offering a wide range of other bee-related products, services, and educational resources to participate.
Volunteer Call:
Not interested in being a vendor but still want to be a part of this remarkable event. We are also seeking enthusiastic volunteers to help make the Honey Bee Festival a buzzing success! Volunteering is a great way to contribute to your community, learn more about honey bees, and be a part of an incredible event.
If you're interested in volunteering, we would love to hear from you! Please reach out to Amanda at amanda@beefriendsfarm.com to express your interest and find out more about the volunteer opportunities available.
Here are just a few highlights of what the Bee Friends Farm Honey Bee Festival has in store for attendees:
"Bee a Kid Zone": An engaging and educational area where visitors of all ages can learn about bees from real local beekeepers. Explore interactive workstations, discover the fascinating world of bees, and gain a deeper understanding of their importance to our ecosystem.
Food Truck Alley and Beverages: Enjoy a delectable selection of food and beverages from a variety of local vendors. Savor the flavors and refuel while taking in the vibrant atmosphere of the festival.
Guest Speakers: Throughout the day, we have scheduled guest speakers who will cover a range of topics including beginning beekeeping, cooking with honey, products of the hive, native plants, and the importance of pollination. Attendees will have the opportunity to learn from industry experts and gain valuable insights.
Beekeeping Volunteers: We are delighted to have dedicated beekeeping volunteers from local beekeeping associations on-site. They will be available throughout the festival to answer questions, provide guidance, and share their expertise with attendees. It's a unique opportunity to engage with experienced beekeepers and learn from their wealth of knowledge.
Community and Family Fun: The festival is designed with the whole family in mind. Experience a day filled with laughter, entertainment, and shared memories. There will be plenty of attractions and activities to keep everyone engaged and entertained.
Join us in celebrating the incredible honey bee and all they do for our environment. Together, let's make this festival an unforgettable experience for attendees and a fantastic opportunity for your business or volunteering experience.
If you have any questions or require further information, please don't hesitate to reach out to our team at amanda@beefriendsfarm.com. We're here to assist you every step of the way.
Host Information:
Bee Friends Farm
1118 Edgewood Ave. S
Jacksonville, Florida 32205
www.beefriendsfarm.com
904-446-5883
Business Hours:
M-F 10am - 5pm
Join us for a buzzing celebration of honey bees!
We look forward to having you join us at the Bee Friends Farm Honey Bee Festival!

Warm regards,

Bee Friends Farm Honey Bee Festival Team