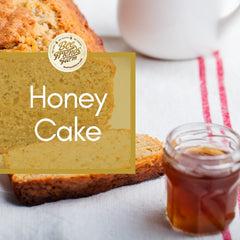 This very simple honey cake is perfect for celebrating a sweet new year in honor of Rosh Hashanah! We like our light and fragrant Orange Blossom Honey for this cake but you can use any of our raw Florida varietals! 

INGREDIENTS
3½ Cups All-Purpose Flour
1 TB Baking Powder
1 TS Baking Soda
½ TS Salt
1 Cup Vegetable Oil
1 1/4 Cup Bee Friends Farm Orange Blossom Honey - you will use some in the batter and some in the pan
1 Cup Sugar
½ Cup Packed Brown Sugar 
3 Large Eggs
1 TS Vanilla Extract
1 Cup Coffee or Dark Tea
½ Cup Orange Juice

INSTRUCTIONS
Grease and prep your baking pans and preheat the oven to 350°F. Use nonstick cooking spray, baking spray, or butter and lightly dust with flour. You can turn this cake into a loaf, bundt, cupcakes, or sheet cake (even a stacked cake if you'd like to make a honey frosting).

Combine most of your dry ingredients into large bowl including flour, baking powder, baking soda, and salt.
Mix to fully incorporate.
In a separate bowl mix all wet ingredients and your brown and white sugar.
Combine 1 cup of the honey, sugar, brown sugar, eggs, vanilla, coffee or tea, and orange juice. Use an electric mixer to ensure that the granulated sugars have broken down a little. Then combine your wet with your dry ingredients. Mixing to ensure you have a smooth batter. 

Drizzle a little honey in the pans before batter goes in. Pour the batter into your well greased and floured prepared pans. Don't go too close to the top, this will rise! 

Drizzle the remaining honey over the batter in the pan.

Bake 30 minutes to an hour depending your pan size. The cake will be firm to the touch and the tester should come out clean. 
Let cool 15 minutes before removing pan. If it seems like it needs it, you can loosen the sides with a knife by going around the edges to help loosen the cake. 


Share your Rosh Hashanah memories with us by tagging us on Facebook and Instagram.