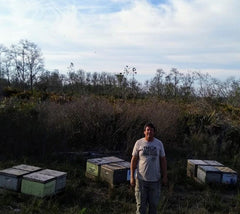 As migratory beekeepers, we move our bees all over Florida to provide the freshest, tastiest, raw Florida honey you can buy.
We are a small scale, family-owned apiary in Jacksonville, Florida with beekeeping roots that go back 3 generations. We don't bottle anything that wouldn't make our Grandparents proud!
At Bee Friends Farm, we specialize in mono-floral varietals, meaning that they come from one flowering plant, like Tupelo, Black Mangrove, Saw Palmetto, Gallberry, and Orange Blossom. Our local Jacksonville Wildflower honey is the only non-monofloral, as it is harvest from all different kinds of flowering plants within the 295 Beltway.
We get lots of great questions on how honey is actually made, it's a pretty cool process! Honey bees harvest nectar from blooming flowers in their area and bring it back to the hive. Those blooming flowers provide a distinct taste profile for each honey varietal. That plant is where the honey is coming from and where the honey gets its name. We place our bees in areas with high concentrations of certain plants to ensure the flavor is true and pure.
For example, Saw Palmetto honey comes from the flowering Saw Palmettos. When we go to place our bees we look for large areas of land that have a ton of Saw Palmettos, Black Mangroves, or Gallberry plants! 
Blooms usually last for a short period of time and, in order to get all those tasty varietals, our bees travel all over North Florida collecting nectar as they go. Follow along with us as we give you updates on our bees and our bee yards throughout the season! 
Have a question on our honey bees? Email us at info@beefriendsfarm.com or message us on Facebook or Instagram.