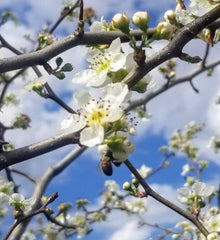 Pollinators make the world go 'round and we're glad to be able to do our part in keeping our honey bee population stable!
Bees aren't the only pollinators though! Everything from wasps, ants, flies, hoverflies, and mosquitoes, butterflies and moths do their part.
Plus
, there are tons of other bee species that pollinate as well. 
There are plants for pollinators and then there are plants for native species - our case native Florida plants. While it's important to plant for pollinators, and it can also be pretty tasting, it's also important to consider native plants for your area! 
When it comes to choosing native plants there are a couple of different organizations and resources that can help with choosing local varieties. 
Read and Experiment In Your Own Yard:
UF IFAS Gardening Solutions: University of Florida is an amazing resource and we should be taking advantage of their researching and programming. They have a list of pollinator plants that are Florida friendly.
Xerces Society: This PDF is full of Florida pollinator plants. There are also a lot of other resources listed within! 
Hands-On:
Master Gardener: A program connected to our local UF Extension Office, the Master Gardening group is full of folks who just want learn more about how to grow your food and plant for pollinators. 
Jacksonville Native Plant Society: Another local resource of people who you can actually go and chat with! They maintain the Native Plant Park in Riverside/Avondale and are pretty active. 
Eat Your Yard Jax: Tim from Eat Your Yard is dedicated to growing food not lawns! His plants are (mostly) edible and are friendly to pollinators and feature a wide variety of Florida natives. Plus, he's a nice guy and it pays to know a farmer!