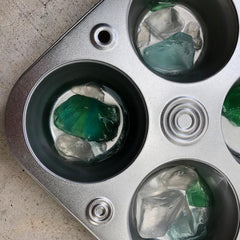 Here in Florida, it's about to get hot. Very hot. While you could use a cool glass of sweet tea, our bees could use some water to get through the day! 
Water is just as necessary for bees as it is for the rest of us on the planet and with this bee water fountain, you can provide a little haven in your garden. 
What you'll need:
- 1 Muffin Tin, Clay Dish or Other Decorative Piece. Just make sure it will hold water and is relatively shallow.
- Rocks, Pebbles or Colored Glass Baubles 
- A shady place in your garden. 
- Water!
Simply place the stones in the vessel of your choice and fill halfway with water. The stones provide a perch for bees (and other pollinators) who may need a drink! 
If you happen to have a pool, and the bees are attracted to it try this. Use pool water to fill your drinking fountain and set it away from the pool. It may help to draw them away from the water and your pool guests. 
This is a perfect summertime craft for kids (and adults!)