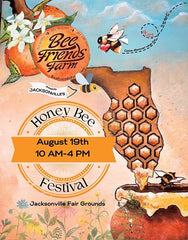 Join us on National Honey Bee Day!
Date: August 19, 2023
Time: 10:00 AM - 4:00 PM
Location: Jacksonville Fairgrounds

Get ready for a day filled with bee-themed excitement, educational experiences, and fun for the whole family.
Buzy Bee Marketplace: Explore our bustling marketplace featuring over 60 amazing local vendors!

Ask a Beekeeper! The Jacksonville Beekeepers Association, Clay County Beekeepers Association, Nassau County Beekeepers Association will be on-site to discuss local beekeeping, backyard beekeeping, and more.

Bee a Kid Zone: Engage your children in hands-on modules, bee biology lessons, and eco-friendly art and planting activities.

Honey Bee Education Annex: Expand your knowledge about bees and beekeeping through educational sessions.

Bee Friends Farm Honey Tasting: Sample and purchase our delicious varieties of local Florida honey.

Amazing Food Trucks: Discover a variety of culinary delights from our selection of food trucks.
Follow along for updates on our Offical Event Page for our Honey Bee Festival.
Save the date, spread the word, and together, let's create a day filled with bee-themed memories!
If you think might be interested in participating as a vendor or volunteering at the Honey Bee Festival Click Here