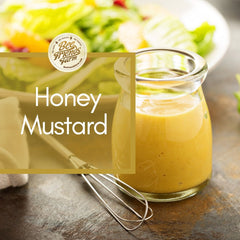 This Honey Mustard is a fridge staple that takes seconds to make.
Try this Honey Mustard as a flavorful marinade for crisply roasted chicken, fish or pork. Or, dress a fresh green salad - even your kids will love it! 
Ingredients:
1/4 Cup Raw Bee Friends Farm Honey 
1/4 Cup Mayonnaise
1/4 Cup Dijon Mustard (any mustard will do, but Dijon gives it a nice flavor profile)
1/2 TB White Vinegar
1/4 TSP Cayenne Pepper
Whisk all ingredients together, making sure to incorporate all elements fully! Baste proteins for the grill or use as a salad dressing. (Or ya know, chicken tenders!) 
HOT TIP - No Mess, No Mixing!
Use a 1/4 full 12 oz glass bottle of Bee Friends Farm honey bottle for this recipe. Add all ingredients to little bit of honey left in the 12 oz bottle and shake vigorous to incorporate. No bowls to clean up and a convenient storage option!