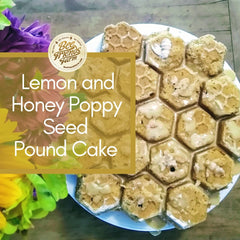 This lemon and honey infused pound cake is quick, easy to make, and will impress anyone at your table! 
Ingredients:
Batter
3 Cups of All-Purpose Flour (Leveled Off) 
1/2 Teaspoon of Baking Soda
1/2 Teaspoon of Salt
1/2 Cup of Milk
2 Tablespoons Grated Lemon Zest 
2 Tablespoons Fresh Lemon Juice 
6 Tablespoon Unsalted Butter Softened 
1 1/2 Cups Granulated Sugar
4 Large Eggs 
2 Tablespoons Poppy Seeds 
Honey Glaze
 1 Tablespoon Confection Sugar
 2 Tablespoons Fresh Lemon Juice
Reserve Zest from the Lemons 


Preheat the oven to 325 degrees. Prep your cake batter by separating wet and try ingredients. First, cream the butter and sugar together and then add the rest of the wet ingredients. Combine the dry ingredients together making sure to tap and level off the flour and baking soda. Sift the dry mixture into flour mixture into the rest of the combined wet ingredients. 


Pour batter into a lightly greased baking pan of your choice. We love this easy to cut, super cute bee-inspired baking pan! It works well in a loaf pan, bundt, and even muffin form. 
Place in oven and let cook for 45 minutes until your tester comes out clean. 
Prep your glaze. Set a saucepan on the stove and scoop the cream honey out of the jar. Warming gently until softened. Add sugar and lemon juice being careful to just warm until combined. (Boiling kills the good, raw properties of the honey that we want to keep intact! Heating the glaze too much will also lessen the fresh taste of the lemon juice you've added to the glaze.) 
Let the cake cool before glazing. Pour and spread glaze over the cake until it drips appealing off the edges. Sprinkle with the fresh zest from the lemon before serving the cake!
Serve and watch it disappear! 
**A Note on Lemons: Make sure to zest your lemons before juicing! They provide beautiful aromatics for the top of your cake and a bonus when juicing lemons for a recipe!