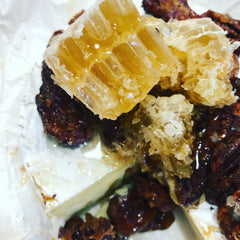 This quick and easy dish makes for a tasty dinner with a glass of wine and is a showstopper for events (these days, for making friends jealous during zoom call happy hours!). You can substitute any kind of nuts you'd like here, and really, you can even substitute the cheese! For example, blue cheese straight from the fridge topped with pistachios and
honeycomb
is a great combo too. Onto the Brie! 
Ingredients:
1

 

small wheel of Brie
1 -2 handfuls of roasted, salted pecans

Sprigs of hardy fresh herbs like rosemary or thyme (optional)
Dress to Impress:
Set oven to 350°F and line a baking sheet with parchment paper. The parchment paper makes a pretty presentation easy, but we'll get to that in a second.
Unwrap your Brie and place it on the baking sheet. You are just looking for the brie to me warm and soft to the touch. Think about 5-10 minutes depending on your oven.
While you wait, prep your serving dish and make your cut comb squares. We recommend three small squares that can be "artfully" stacked and nestled together atop your cheese of choice. 
For serving, you can use anything from a wooden cutting board here to a platter or regular plate. You just want to have enough room for your cheese, garnish, and some bread or crackers. 
Once your brie is done, you can use use the parchment as part of the display or choose to discard it. Carefully transfer the brie to a serving dish.
Once your cheese is in place, place your cut comb squares on top and sprinkle with the pecans. you can dot the dish with pecans as well. Top with sprigs of herbs like thyme or rosemary if you have it available!