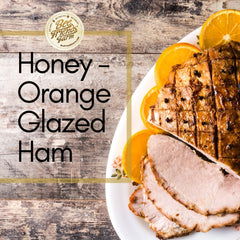 Everyone at your table (big or small) will love this juicy recipe! With just a few simple, pantry staples it is sure to impress! Enjoy and make sure to tag us in your Instagram worthy photo! 
Ingredients:
1 8-pound Fully Cooked Bone-In Half Ham (shank or butt)
1 cup Chicken Broth or Veggie Broth
1 cup Bee Friends Farm Orange Blossom Honey
3/4 cup packed light brown sugar
1/2 cup whole-grain mustard
½ cup fresh Orange juice 
1-2  full Oranges for slicing
1 tablespoon Chopped Fresh Rosemary
1/2 teaspoon Red Pepper Flakes

Bring the ham to room temperature 1 hour before baking.

Directions:

Position oven rack in the lowest possible position, then preheat love to 350 degrees Fahrenheit.
Score the fat with a sharp knife in a 1-inch crosshatch pattern without cutting through to the meat. Place the ham flat-side down in a roasting pan and add the broth to the pan. Cover with foil and bake 1 hour.

While it is baking prep your Honey-Orange Glaze. In a bowl mix together the honey, brown sugar, mustard, rosemary, and red pepper flakes in a medium bowl. Remove 3/4 cup of the glaze to a separate bowl and set aside for tableside serving.
Remove the ham from the oven, discard the foil and brush on a good coat of the remaining glaze. Use toothpicks to affix fresh orange slices to the top of the ham.  Continue baking for another 45 minutes to an hour. Make sure to be basting the orange slices and the ham with the glaze and the pan juices every 30 minutes, until the ham is a deep reddish-brown and a thermometer inserted into the center registers 140 degrees. (During this process add more liquid to the bottom of the pan if need be!)

Let the ham rest for 20 minutes before slicing. Serve with the reserved glaze. Enjoy!