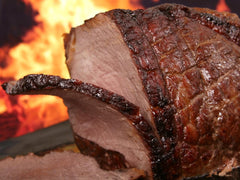 Looking for a different twist on a honey spiced ham? Check out our unique recipe with Bee Friends Orange Blossom Honey!
Ingredients
1 8-pound fully cooked bone-in half ham (shank or butt)
1 cup low-sodium chicken broth
1 cup Bee Friends Farm Orange Blossom Honey
3/4 cup packed light brown sugar
1/2 cup whole-grain mustard
½ cup fresh Orange juice
1 full orange for slicing
3 tablespoons hot sauce
1 tablespoon chopped fresh sage
1/2 teaspoon red pepper flakes

Bring the ham to room temperature 1 hour before baking.

Directions
Position an oven rack in the lowest position; preheat to 350 degrees F. Trim off any skin from the ham, leaving a 1/4-inch layer of fat. Score the fat with a sharp knife in a 1-inch crosshatch pattern without cutting through to the meat. Place the ham flat-side down in a roasting pan and add the chicken broth to the pan. Cover with foil and bake 1 1/2 hours.

Meanwhile, make the glaze: Whisk the honey, brown sugar, mustards, vinegar, hot sauce, thyme and red pepper flakes in a medium bowl. Remove 3/4 cup of the glaze to a separate bowl and set aside for serving. Remove the ham from the oven, discard the foil and brush with about one-quarter of the remaining glaze. Continue baking, brushing with the glaze and the pan juices every 30 minutes, until the ham is a deep reddish-brown and a thermometer inserted into the center registers 140 degrees F, 1 to 1 1/2 more hours. (Add 1/2 cup water to the pan if the juices dry out.)

Transfer the ham to a cutting board and let rest 20 minutes before slicing. Serve with the reserved glaze