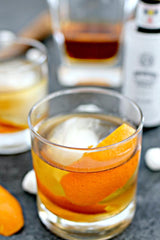 Looking for a sweet twist on a classic cocktail? The honey and orange go well with the bourbon of choice "Bullet Rye".
1 oz Honey Simple Syrup* (Any BFF honey varietal will do, but today we'll use Orange Blossom.) 
1 shot Favorite Bourbon
1 strip Orange Peel
2 dashes Orange Bitters
*Mix 1 TBS Orange Blossom honey and 2 TBS warm water. (Add more or less water depending on how sweet you like it.) Stir until dissolved pour over ice and add orange peel for garnish! 
Fancy ice isn't required for a great old fashion, but it definitely produces a "wow" factor! 
New! Miss B's Old Fashioned Creamed Honey for a limited time click here to buy.