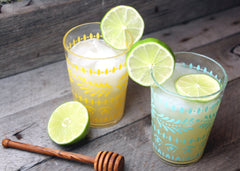 Mexican Vanilla is a staff favorite! While it's delicious on toast and mixed into coffee we are always up for new things. This recipe adds our Mexican Vanilla Cream honey to a cocktail favorite. We like things tart and fresh here at Bee Friends Farm, take a sip of this refreshing summer time drink!
Margarita with a Friendly Twist
2 shots Bee Friends Farm Mexican Vanilla Simple Syrup* or to taste.  
Juice of 2 Fresh Limes
1 shot Favorite Tequila
1 Cup of Ice 
For honey syrup mix 1 TBS Mexican Vanilla Creamed Honey and 2 TBS warm water.
Squeeze limes, add Mexican Vanilla simple syrup and tequila to ice. Shake or stir vigorously. Use a lime slice to garnish the glass. Makes one cocktail.