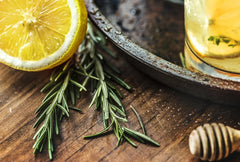 Gathering around the grill is the perfect way to enjoy a meal with loved ones any time of the year in Florida! This recipe calls for our citrus-y and sweet Orange Blossom honey in a marinade, try it out and let us know what you used it on!!
Summer Grill Marinade
1 TBS Bee Friends Farm Orange Blossom Honey
1 TBS Olive Oil
3 Cloves Sliced Garlic
Juice of 1 Fresh Lemon
Fresh Rosemary
Salt & Pepper to Taste
Marinate veggies, fish or chicken with this simple, tasty mix overnight for maximum flavor. Grill or roast as desired and pair with a fresh salad or grilled veggies. 
Any of our honey varietals like Gallberry or Saw Palmetto can be used for this recipe, but we love the Orange Blossom honey here! You can this refreshing mix as a dressing for a salad or a sandwich!