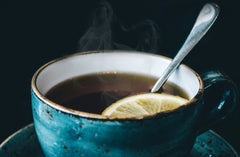 Both Whisky and honey have been proven to help ward off a chill and help with sore throats! But don't just take our word for it, give it a taste and see how much better you feel after! 
Here's what you'll need:
2 TB Jacksonville Wildflower or Cinnamon Cream Honey 
3/4 Cup Hot Water*
1 Shot of Whisky/Bourbon of your choice
1 Small Wedge of Lemon
1 Strip of Lemon Peel (optional)
2 Whole Cinnamon Sticks (a pinch of ground cinnamon will do) 
Mix together honey and water to dissolve thoroughly. Once the honey is totally dissolved, add your Whisky of choice. Pour into your favorite mug and squeeze the lemon wedge into the mix. Stir with the cinnamon sticks and garnish with lemon peel. Warm your hands and enjoy!
Love this Hot Toddy recipe? Check out Prestige Decanters for a few more tasty hot Toddy recipes!! 
*When heating the water, avoid boiling it or adding boiling water directly to your honey. We want to make sure to keep the honey raw so you get the added benefits of the local honey!