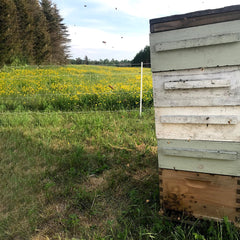 There are several reasons why a Langstroth hive might be a good choice for someone who is new to beekeeping:
Langstroth hives are widely available and relatively easy to find. Many beekeeping supply companies sell Langstroth hives, and there are also many resources online that provide instructions for building your own.

Langstroth hives are widely used, which means that there is a wealth of information and resources available for new beekeepers who are using this type of hive. This includes books, videos, and online forums where experienced beekeepers are available to offer advice and support.

Langstroth hives are designed to be easy to manage. They have standardized dimensions, which means that all of the components are interchangeable. This makes it easy to add or remove frames, inspect the hive, and harvest honey.
Overall, Langstroth hives are a good choice for new beekeepers because they are widely available, well-supported, and easy to manage.