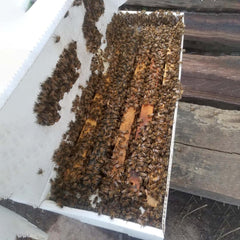 The health of the bees: It's important to make sure that the bees in the nuc are healthy and well-established. Look for signs of disease or pests, and ask the seller about their history of treating for these problems.

The age of the queen: It's generally best to buy a nuc with a young, productive queen that has been laying eggs for at least a few months. Older queens may be less productive or prone to disease.

The cost and availability: Nucs can be expensive, so it's important to shop around and compare prices. It's also a good idea to check the availability of nucs in your area before making a purchase. Some areas may have limited availability, so it's important to plan ahead.
Overall, it's important to do your research and ask the seller plenty of questions when buying a nuc. This will help you find a healthy, productive hive that will be a good investment for your beekeeping endeavors.