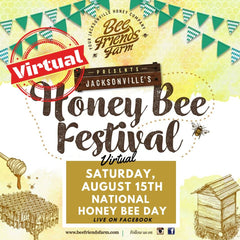 Saturday, August 15th is National Honey Bee Day! Follow along for updates on our Offical Event Page for our Virtual Honey Bee Festival.

Due to Covid-19 we aren't able to have a festival in person, but we still want to celebrate our local honey bee population, share some interesting beekeeping knowledge, and promote our fellow local businesses. We're hosting a Virtual National Honey Bee Day you can enjoy from your own home!

Here's what to expect (with more to be announced) during our virtual Bee Friends Farm Honey Bee Festival:
- Educational videos from local beekeeping, backyard farming experts, and more.
- Local vendors celebrating National Honey Bee Day with us! You'll be able to purchase local products from their own websites with the choice of shipping or local pickup.
- Tasty offers from bars, restaurants, and more around Jacksonville, Florida. We'll be sharing lots of amazing locally owned small restaurants to pick up lunch or dinner all while social distancing.
- Kid's Education Packets with fun activities to celebrate National Honey Bee Day!
- Raffle! Each purchase made on August 15th will be entered into a Raffle with prizes TBD.

We'll share more info on Bee Friends Farm National Honey Bee Day festivities as we move forward!