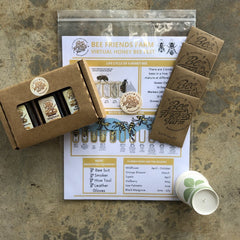 Our "Bee A Kid Zone" at our Honey Bee Festival is always one of the most important to us. We want kids in our community to get an understanding of the environment as it pertains to them.
During our Virtual Honey Bee Festival, we're hoping to bring a similar hands-on experience to more than just our community! Families all over can participate in National Honey Bee Day through our Virtual Honey Bee Festival with our Honey Bee Education Kit for Kids. This kit is designed to celebrated honey bees on National Honey Bee Day.
BONUS: This activity kit can be paired with a FREE educational session with Master Beekeeper and Early Childhood Learning Specialist Meghan Orman live on Facebook August 15th at 10 AM. 
One Full Kit Includes Two Education Modules:
Pollination Station Kit:
2 Interactive Activity Sheets 
Honey Tasting Kit: 

3 Interactive Activity Sheets
Full Honey Tasting Kit Includes: 1 Trio Box of Florida's Favorite Honey and a Honey Tasting Worksheet.

While we may be going live with Meghan at 10 am on Saturday, August 15th on Virtual Honey Bee Festival Event Page, the lesson will be saved to Facebook. That way you can watch at your leisure! Break the lesson a part or watch it all at once - whatever speed your child needs. 
Have more than one child? Purchase one full kit and add on additional activity sheets so that each kid can color and build their own! 
This kit was designed in partnership with learning material from the National Honey Board, Early Childhood Learning Specialist Meghan Orman, and Bee Friends Farm.