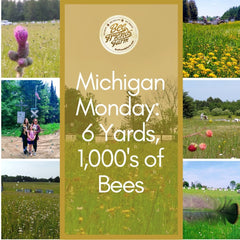 Week 3 finds our bees adventuring daily. They are really starting to get into a rhythm on their Michigan trip! 
They've spread out in Escanaba, MI to their 6 yards, and have really gotten into exploring the surrounding wilderness. The bees have nicknamed each "campsite." You can find our ladies swapping stories around the campfire at night.
Sharing tales of the apiary yards, the bees are nice and comfy in their six yards and they've nicknamed them on defining features; Barn Yard Dog Yard, "Choo Choo" Yard, Early Rising Finn Yard, Milkweed Yard, Pheasant Run Yard, and Strawberry Fields Yard. 
From a lone pheasant left behind from an old-time pheasant farmer to the "Choo Choo" Yard right near the railroad tracks to Early Rising Finn on Finn Hall Road (and you guessed it, they made camp in the early morning!) - each one of these yards has their own defining features.
The bees over at the Barn Yard Dog Yard say they're the scrappiest of all the bees. They had the scariest campfire story the other night. Don't worry, they made friends with the dog, but they are wary of bears.
They told their story of a small attack, by what the Michiganders call a teenage bear (eeekkk!). The electric fence did its job. Most of the ladies are okay - and so is the bear! He was sighted by the Choo Choo Yard bees, but they didn't have any face to face encounters with him. 
One of the favorite yards is the Milkweed Yard. A literal butterfly paradise, the whole yard is covered in Milkweed and big ole' chunky caterpillars. Milkweed is a butterflies favorite treat and they go from cocoons to beautiful butterflies in no time!! The bees are doing their job to pollinate the plants which means the butterflies will have even more plants to snack on. 
Despite all the fun, both the bees and the beekeepers, are having up in Michigan they are still putting in a lot of hard work! The bees have been finding and storing more and more nectar each day. We are so thrilled they are loving it up there and we know they'll be ready to come back when the nectar flow is over. 
Follow along with our bee's summer vacation all summer long with Michigan Monday posts on our Facebook and Instagram. 
Why did we send our bees to Michigan? Learn more here!