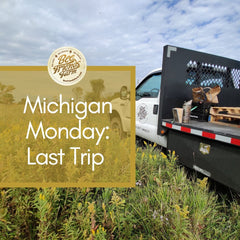 Our beekeeper, Michael, is back up  Michigan! It's his last trip of the summer and he's bringing the bees back with him! 
Michael is hard at work harvesting honey in our mobile extraction unit, checking on the bees and enjoying the weather. The temps are dipping cooler and cooler and the bees seem ready to get back to their warmer climate, though they will miss some of these Upper Michigan views!  
They will be riding back to Florida this weekend and we can't wait to welcome them back with open arms! 

Stay tuned for next week as they arrive back in Florida for the winter!