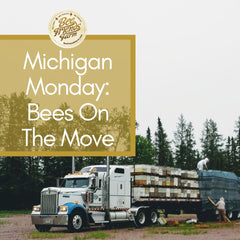 This traveling saga starts late on Thursday evening. Our Florida team used a forklift to load up four-way pallets of bees onto a semi-truck. Bees forage during the day and are often away from the hive, so it's important that our hives be moved in the evening. We have to make sure that everyone is at home to make the trip! The hives were netted to keep everyone safe so that no lady was left behind.
Once they were all snug, the hives made their drive north. They were headed to meet up with our beekeeper, Michael, and his family, who will accompany them during their great northern foraging adventures.
Our driver isn't a "newbee." He hauls beehives for a living and he carefully made the drive to upper Michigan with our ladies in tow. 
The drive took all night Thursday, all day Friday and all day Saturday when our ladies finally arrived in Michigan. They were greeted by Michael, Christie, Ray, Anna, Nathan, and Naomi to help get them unpacked and settled in their new home for the next few weeks. 
In some of the yards, we've set up electric fences. Just in case some bears decide the honey smells too good to resist. (Pooh Bear is real, but we'd rather not meet him in the wild!) With great adventure comes a different set of challenges! 
We ended up sending a little over 240 of our hives to Michigan and they are excited to get to work checking out the new scenery! 
Follow along with our bee's summer vacation all summer long with Michigan Monday posts on our Facebook and Instagram. 
Why did we send our bees to Michigan? Learn more here!