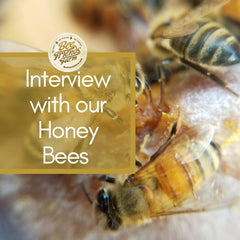 This week we sent our hives off to their Summer Vacations! We're excited for them and wanted to get their take on Summer 2020! Read on to learn more: 
What are you most looking forward to?
Michigan Hives: Cooler weather. (Don't worry we packed some sweaters!) Mostly, the food though. I can't wait to wet my proboscis with nectar from Clover plants, Fire Weed, Star Thistle, and more. 
Black Mangrove Hives: Beachside vacay baby!! We'll be sitting coastal with some great views and a refreshing Black Mangrove cocktail. 
Are you worried about getting homesick?
MH: Haven't really thought about it too much but...not really, we'll be back before you know it. 
BMH: Not even a little. It's a nice staycation, about an hour or so, outside of Jax (depending on who's driving) and it will be just nice to getaway. 
How can we keep with your Summer Vacation adventures?
MH and BMH: Follow us here on our website and we'll be providing updates on our Facebook and Instagram! 
BMH: The Michigan Hives even have #MichiganMonday on our social media - we're trying hard not to be jealous of that! 
MH: We'll send you guys a postcard! 
What are you most looking forward to when you get back to Jacksonville?
MH: It will be good to be back on the old flying grounds for sure. As nice as it is to get away, it's always nice to come home. Though, you never know. Maybe we'll be the official Michigan Hive Outpost for Bee Friends Farm!
BMH: Back in Jax there will be lots of new Wildflowers blooming, and we pick some of the best stuff. It's really rewarding every year to get to choose the best of the best of the flowering plants to create the best honey we can. We're a humble hive, but we are pretty good at our jobs! 
Continue to follow our bees this summer on social media,  Facebook and Instagram!