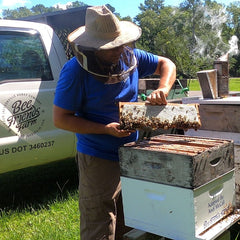 "Bee" A Beekeeper For A Day!
We are excited to be offering this one of a kind farm tour experience that gives you the chance to be part of our apiary. This experience allows you to step into the role of a beekeeper for the day. Tickets for our upcoming dates can be found here- they are available and limited! 
Spend time with us at Congaree and Penn where you'll learn all about honey bees, be able to crack open a hive with our very own beekeeper, and more. The workshops will be broken up into two parts:
Beekeeping 101: We'll discuss honeybee history, the structure of the hive, and how bees collect honey. This will be a way for you to get your bee basics down pat. When you peek into the hives, you'll be a pro. 
Hands-On Hive: Suit Up!
You'll head into the apiary with Michael Leach. Michael is the owner of Bee Friends Farm and our Head Beekeeper - he can talk for hours about bees so get ready! He'll take you on a unique tour giving you hands-on experience in the hive. Each visit to the hive will be specific to the season and that day.
All are welcome to join us! This workshop is perfect if you've been wondering if you have what it takes to be a beekeeper then this workshop is the perfect introduction. Or, if you aren't quite ready for hive you'll get a first-hand look without the commitment to an at-home hive. You'll come away with some amazing bee knowledge and a one of a kind experience! 
Notable Items:
Wear closed-toe shoes, long pants, and long sleeves.
In order to keep this class as informational and personal as possible, we are capping ticket sales for each class. You can find dates and tickets here.
We recommend bringing a water bottle and a sweater. It's Florida folks, we never know if it will be hot or cold. Sometimes both before the day is over!
 Avoid wearing colognes or perfumes and hair is best tied back!
While lunch is not included,

If you would like to pair your Beekeeping Experience with lunch or dinner, dining reservations are required. Reservations can be made at

www.congareeandpenn.com

. They have a tasty menu (both food and drinks) that you can enjoy on their delightful patio!
Because this workshop will be a hands-on experience we do not recommend this for children 13 and younger. Please keep in mind this is an active apiary and you will be expected to dress and behave accordingly. Each guest will also be required to sign a waiver.