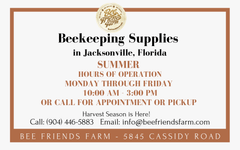 Beekeeping Supply Store Updates for Summer
New Summer Hours:
Order and have your supplies (or honey) ready to pick up:
Honey Harvest Supplies:
Honey Frames are getting heavy, you'll need some harvesting materials. Many beekeepers in North Florida harvest honey around July 4th. We have a variety of basic tools* to get you started. 
*Looking for an extractor? Join the Jacksonville Beekeepers Association! They rent out basic extraction equipment. 
What's Next
We'll provide more info on taking care of your bees after the honey flow!: