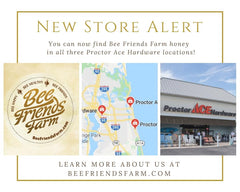 We are pleased to share that you can now find a selection of our raw, Florida honey in all three Proctor ACE Hardware stores in Jacksonville, Florida! 
Working with fellow local businesses gives us a lot of joy - even more so when it means you have more access to the honey you crave. Find a jar of local honey near you at these three locations today:
Proctor ACE Hardware: 
5723 University Blvd W,
Jacksonville, FL 32216
Proctor ACE Hardware: 
1281 Atlantic Blvd, 
Neptune Beach, FL 32266
Proctor ACE Hardware: 
870 A1A N,
Ponte Vedra Beach, FL 32082
Go visit, snag a bottle for yourself and support two local businesses!