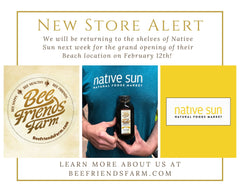 The sun will rise again on February 12th! Beloved grocer Native Sun is back in all its local glory. The re-established location in Jacksonville Beach will officially open next week! 
We'll be on the shelves with many familiar faces like Olive My Pickle, Hive Alive Honey Brews, Trader Hills Farm and more. You will find a variety of our local, raw Florida honey like our Jacksonville Wildflower, Black Mangrove, Orange Blossom, Saw Palmetto, Tupelo, and Gallberry. The Wildflower is perfect for Allergy season but if you are looking for something a little different try the Black Mangrove in BBQ sauces, coffee and more. 
Native Sun will also be carrying some specialty items like our Wildflower Cut Comb and Creamed Honey infusions like Mexican Vanilla and Cinnamon. 
We can't wait to shop at Native Sun again, hope to see you in the aisles!