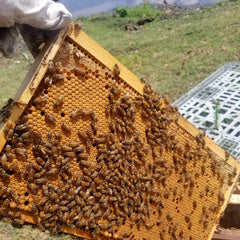 Starting February 6th, 2020, you can visit our little beekeeping supply shop for your backyard beekeeping needs! 
Open Tuesday through Sunday, we have the supplies and the know-how to get you started. We specialize in basic beekeeping equipment to help backyard beekeepers thrive. Find 10-Frame Hive Kits, Smokers, Leather Gloves, Frames with Plastic Foundations and more. All right here in Jacksonville for local pickup only!
Two Ways to Order Your Bee Supplies With Us:
Take a look at our catalog
here
and you can check out online. We will email you once your order is ready to be picked up on location during our hours of operation.  
Swing by during our operating hours! We are right off of Edgewood Ave. S next to Community Loaves we are excited to meet you!
Most of our supplies comes fully assembled. We plan to add more options as we grow. For questions please feel free to contact us at sales@beefriendsfarm.com or 904-446-5883.
We have 
5 Frame Nucs for preorder
. A member of our "Bee" Team will contact you to confirm your order, and coordinate pick up.

Please remember this is for local pickup in Jacksonville only! We will not be shipping bees or beekeeping equipment. We hope you'll come to visit us!
Location for Pickup: 
Bee Friends Farm
1118 Edgewood Ave. S
Jacksonville, Florida 32205