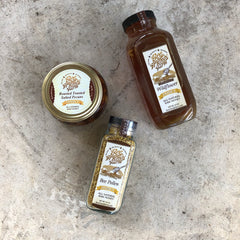 Published on 3/19
As farmers, we are in a unique position during Covid-19's social distancing process. We want to be able to support our community's health and wellness by providing good quality honey for everyday use, but we don't want to put anyone at risk. Honey has a myriad of health benefits and we can use any immunity boosts we can get right now.
Here's how we are serving you:
Local Pickup:
When you purchase with us online you will be able to make choose a local pickup option. You will receive an email with our address and pickup instructions once your order is ready. We will coordinate a contactless pickup with you! 
904 Local Food Hub
We are so grateful to be part of such an amazing food community. Here in Jax, we are now part of a 904 Local Food Hub. It's a spot where you'll be able to shop local producers without the threat of coming into contact with many people, reducing the risk of spreading the Coronavirus. The concept is called Conscience Containment Market and our local branch is spearheaded by our friends at Olive My Pickle. It will be open this Thursday 3/19. Keep in touch on social media for updates. 
Free Shipping:
As always, we will continue to provide free shipping on all orders over $40. Social distancing at it's finest, no contact, all the local honey you need!
Many grocery stores are still open! You can find our products at Gate Gas Stations, Fresh Market, Native Sun and more. 
BONUS:
We're pretty excited to be sharing our new bundles with you guys!
When you order you'll receive three of our most popular 12 oz jars at a bundle cost for you and your family. Enjoy different honey varietals throughout the day. 
This package has a jar of Bee Pollen, a large jar of our Wildflower and a jar of our Pecan Honey. 
Beeswax Candles:
Each order made online with us will receive a mini-beeswax candle from today, 3/19 until April 1st.
We are excited to say that we are now offering candles! There are a lot of benefits to burning beeswax candles. You can learn more here. 
You can purchase a candle from us at any time here.  
A Note Regarding On-Site Beekeeping Sales:
We will continue to sell beekeeping equipment at our location at 5845 Cassidy Road. PLEASE order online and allow us time to collect your order. We will have it ready for you to arrive. We are trying to be open and available for you at this time while also observing CDC Guidelines.  
Things are still changing rapidly. Stay Tuned. Stay Safe. Stay Healthy.